Published May 26, 2023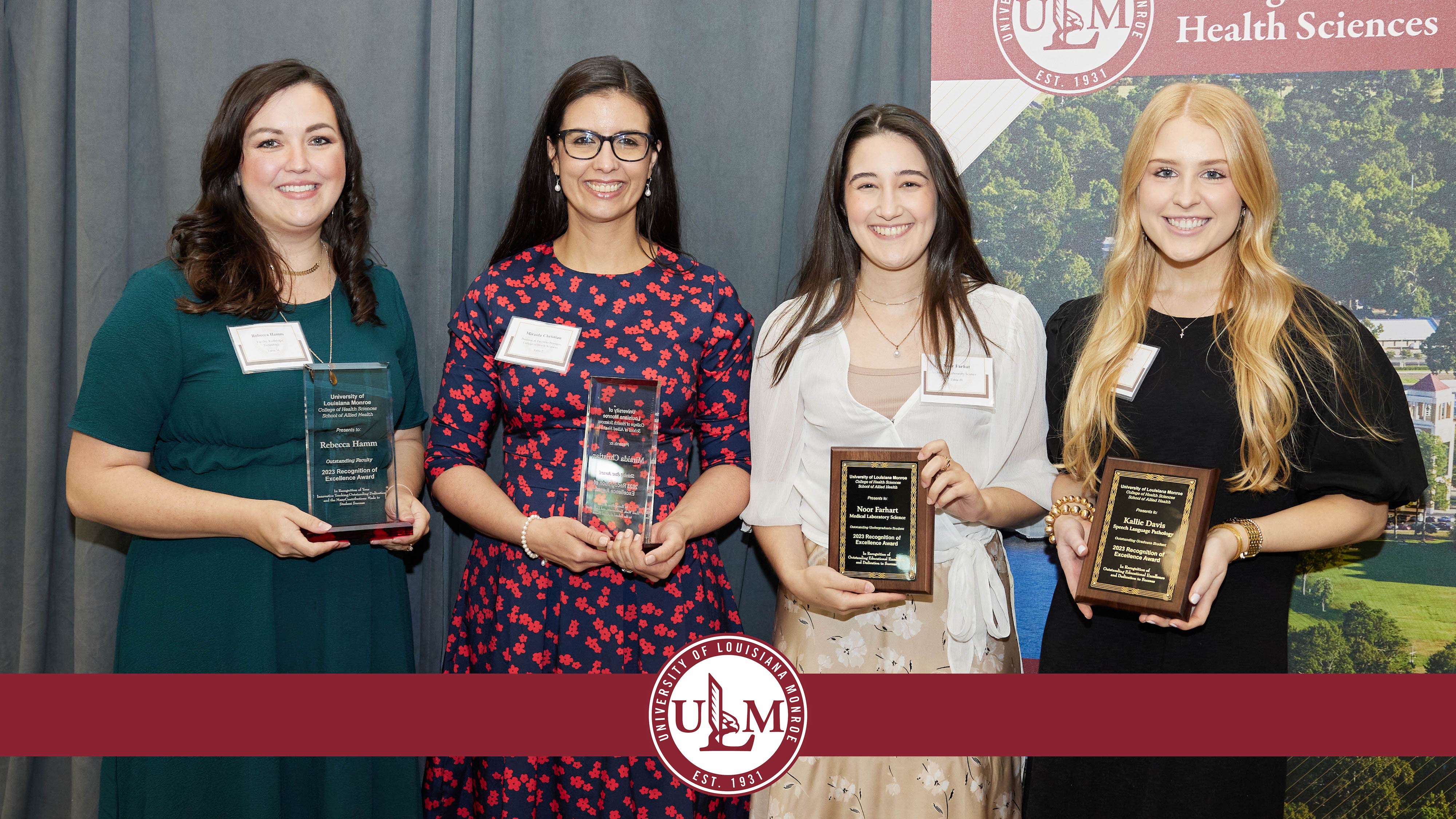 CAPTION:(L-R) Outstanding Faculty Rebecca Hamm, Shining Star Miraida Christian, Outstanding Undergraduate Noor Farhat, Outstanding Graduate Kallie Davis 
MONROE, LA – The School of Allied Health (SOAH) under the College of Health Science (COHS) held
its annual Spring 2023 Professional Business Luncheon Networking event and Awards
Ceremony on Tuesday, April 4 at Bayou Pointe where a total of 300 people attended
which included health science students, healthcare community leaders, and faculty. 
Seven different Health Science (HS) programs participated in the Professional Business
Luncheon Networking event which included a total of 182 students from Dental Hygiene,
Health Studies, Kinesiology, Medical Laboratory Science, Occupational Therapy Assistant,
Radiologic Technology and Speech-Language Pathology. The purpose of this professional
business luncheon was for students to gain knowledge and application of appropriate
business etiquette, interpersonal communications, and networking with healthcare professionals
in their discipline. Students were assigned to exact tables with their specific discipline
leaders which allowed for meaningful dialogue about careers in their field.  
As preparation to the business luncheon, these HS students participated in a 3-hour
interactive, Skills Camp Workshop led by the ULM Career Development Student Center and the College of Health Sciences
which focused on topics of professionalism, dining etiquette, professional dress,
and career readiness. In addition, students had to develop work-related questions
to ask their leaders which provided an excellent background to conversation during
the lunch.  
Dr. Paula Griswold, Associate Dean of the College of Health Sciences explains, "The
luncheon is a collaborative endeavor with students, faculty, and community leaders. 
The event provides a real-world experience for students to practice those non-technical
skills needed to enter the healthcare workforce and have a positive career.  It was
a very successful event for our students and community leaders."  
"The professional luncheon helps students learn first-hand what employers are looking
for in college graduates and students begin to see how they can put their degree to
work", Dr. Jessica Dolecheck, event organizer and Program Director for Health Studies.
"Having a focused and personal lunch with healthcare professionals allows students
to engage and ask insightful career related questions." 
During the Professional Business Luncheon event, SOAH Outstanding Awards for faculty,
staff, undergraduate and graduate students were presented recognizing their outstanding
achievements in their discipline. 
The chair of the 2023 SOAH Awards Committee, Ms. Kim Whorton, points out that "It
is remarkable to see the dedication of these nominees and how committed they are to
supporting our programs. These awards are a way of celebrating their outstanding efforts."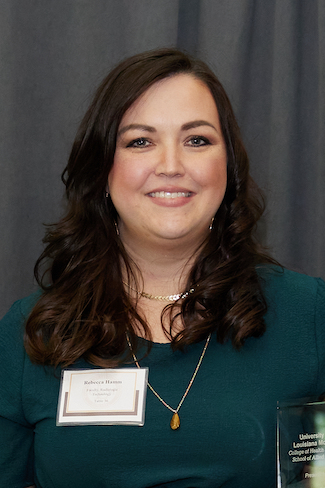 Rebecca Hamm
Outstanding Faculty Award 
The School of Allied Health presented the Outstanding Faculty Award to Rebecca Hamm,
Associate Professor of Radiologic Technology. The award honors a full-time faculty
member who demonstrates exceptional teaching effectiveness, mentorship to students
and other faculty, involvement in research, and service to the community outside of
campus.  
Mrs. Hamm excels in teaching, with a focus on radiographic procedures by incorporating
student engagement through classroom activities and assignments. Her external service
includes being actively involved in the Louisiana Society of Radiologic Technologists,
recently completing her tenure as President of the organization, as well as active
participation in the American Society of Radiologic Technologists, the Association
of Educators in Radiologic Sciences, and the Joint Review Committee on Education in
Radiologic Technology as an accreditation site visitor. Her internal service includes
participation in numerus program, college, and university committees, faculty advisor
to the program's student organization, and involvement in many programs and events
at the University. She has also secured funding via several grants, most recently
a $25,000 grant to install a digital x-ray unit in the radiographic lab. Mrs. Hamm
continues to publish and present on a regular basis, and will also be defending her
dissertation on the topic of Accreditation Assessment in the Spring of 2024.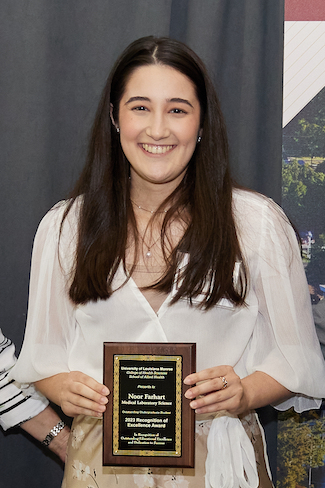 Noor Farhat
Outstanding Undergraduate Student Award 
The Outstanding Undergraduate Student Award was presented to Noor Farhat. The award honors an undergraduate student who demonstrates exceptional scholarship, character,
and service.  
Noor Farhat is an excellent student, peer, and leader for the Medical Laboratory Science
(MLS) program. She maintains a 4.000 GPA while completing the rigorous MLS curriculum.
Noor holds an academic excellence scholarship, is a member of ULM Honors Program,
and has been on the ULM President's list throughout her college career. She demonstrates
leadership skills by serving as the MLS Student Society secretary and the Louisiana
Society for Clinical Laboratory Science (LSCLS) Student Forum chair. She was instrumental
in writing and receiving a grant through the ULM Office of Student Development for
funding to assist MLS students. This past summer, she represented LSCLS at the national
American Society for Clinical Laboratory Science (ASCLS) in Grand Rapids Michigan
as a member of the House of Delegates.  As a member of the MLS Student Society, Noor
participated in several service and recruiting events including the Christmas Project
for the Center for Children and Families, Browse on the Bayou, and the ULM blood drives.
For her notable service and outstanding abilities, Noor was awarded the 2022 LSCLS
Student of the Year.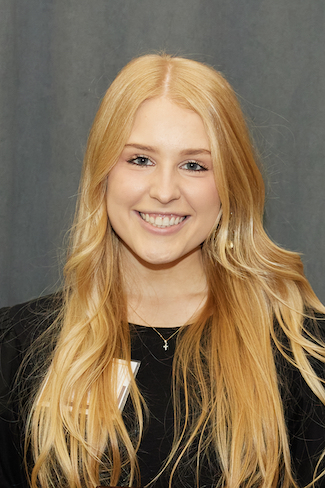 Kallie Davis
Outstanding Graduate Student Award 
The Outstanding Graduate Student Award was presented to Kallie Davis from the Speech-Language
Pathology program. The award honors a graduate student who demonstrates exceptional
scholarship, character, and service.  
Kallie Davis is an outstanding student, earning a 4.0 GPA in a very rigorous program.
In both her personal and professional demeanor and interactions, Kallie represents
the many characteristics that the program desires for all of its students. She has
a thirst for knowledge and exudes enthusiasm for all aspects of the profession. Her
professionalism and her positive outlook draw others to her. She is a positive influence
on others as she exemplifies knowledge of best practices and is willing to confidently
share her knowledge and experiences with others.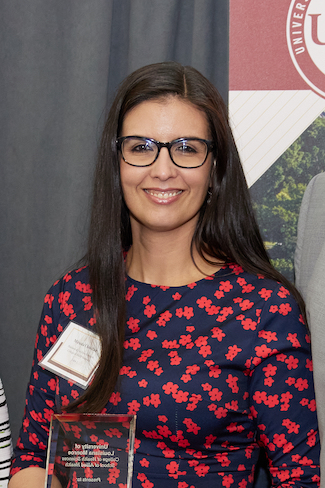 Miraida Christian
Shining Star Award 
The 2023 Shining Star Award is given to a staff member in the COHS who demonstrates
outstanding customer service, initiative, dependability, teamwork, and a positive
attitude in our School and College of Health Sciences. The 2023 Shining Star Award
recipient is Ms. Miraida Christian from the College of Health Sciences. 
Ms. Miraida Christian is described as a model employee. She is smart, organized, and
has multiple degrees in business. She has exceptional experience and skills in accounting
and finance. Ms. Christian has gone above and beyond to keep supplies coming in for
our programs/students and managing travel for faculty. She has put in unlimited hours
in trying to keep these tasks up to date and the college moving forward. She is even
on campus during holiday breaks and in the middle of hurricanes inspecting offices
and classroom space. She has a great working relationship with other offices on campus.
She is always professional and treats everyone with respect. She has volunteered to
assist with college events such as homecoming, commencement, and the ULM Foster Care
day.  Someone once said, "If I won the lottery, I would want her managing my winnings!" 
She is a true asset to our college. 
The COHS and SOAH committees are commended for their work on facilitating the luncheon
and awards event for ULM students, community leaders and faculty within their programs.
Innovative projects such as these will help students feel more confident in workplace
environments which will likely translate into more successful healthcare outcomes.