Edmond Woodway's Ever Yamada (center) wins the 110m higher hurdles in a meet with Mountlake Terrace and Shorewood held at Edmonds Stadium March 23. (Photographs by Joe Christian)

(L to R) Edmonds-Woodway's Lily Tessandore, Lindsey Gard, Olivia Lacambra, Sydney Keay, Shorewood's Charlotte Philbrick and E-W's Martina Landa strike a pose just prior to beginning the 3200m race.

Naomi Limb finishes off the four x 200m with the win for E-W.

Terrace's Tyson Lamons (L) competes in a heat of the 100m.

The Warriors' Cannon Kennard (C) leads his heat in the 100m.

Liam Fitting throws the Javelin for Edmonds-Woodway.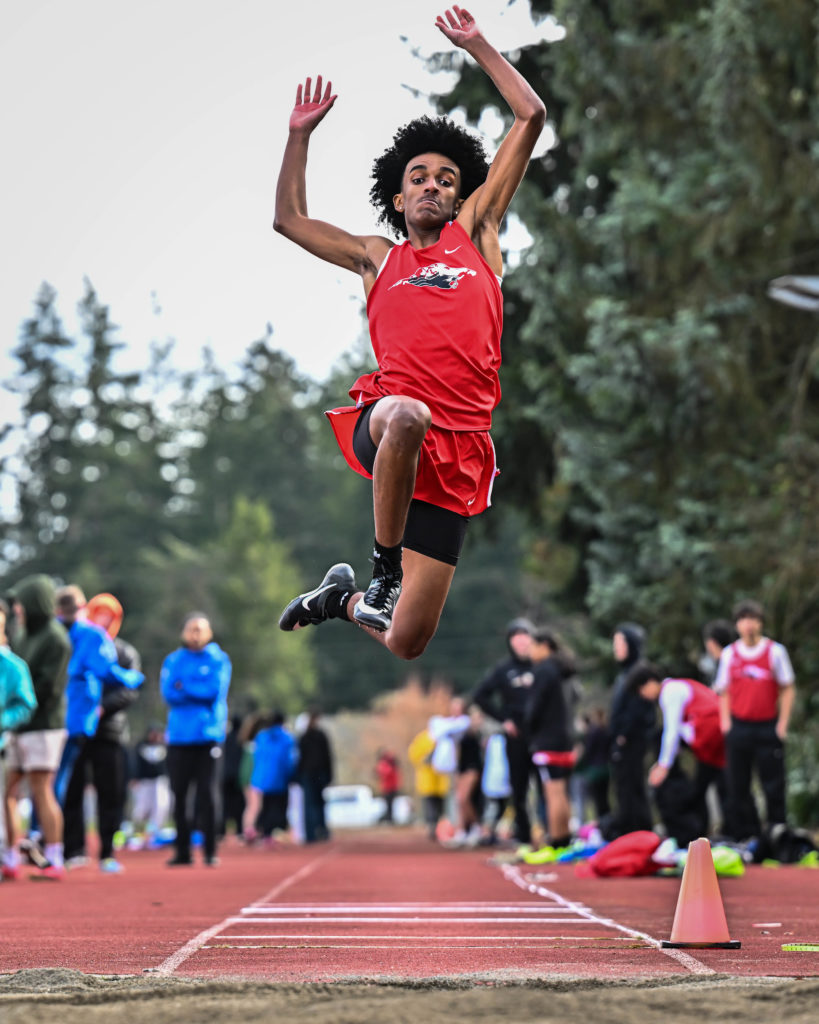 Terrace's "Joe" Asalifew wins the extended jump with a jump of 18 feet, 9 inches.
E-W's Vivianna Adkins receives the baton from Jane Miceli for the third leg of the four x 100m race. The Warriors defeated Shorewood for 1st spot by 1-tenth of a second.

E-W's David Danyo (in green) wins the 400m with a time of 53.58 seconds.

Mountlake Terrace freshman Brynlee Dubiel wins the 100m hurdles with a time of 17.25 seconds.
Track and field
Edmonds-Woodway/Mountlake Terrace/Shorewood
At Edmonds Stadium
Boys Group Scores:
Shorewood 70
Edmonds-Woodway 42
Mountlake Terrace 39
Girls Group Scores:
Edmonds-Woodway 71
Shorewood 60
Mountlake Terrace 28
Click right here to see benefits for all events
https://www.athletic.net/TrackAndField/meet/490658/benefits/all
Edmonds-Woodway subsequent meet: vs Arlington and Everett Thursday, March 30 three:30 p.m. at Everett Stadium
Mountlake Terrace subsequent meet: vs Jackson and Shorecrest Thursday, March 30 three:30 p.m. at Shoreline Stadium
Everett/Lynnwood/Shorecrest
At Shoreline Stadium
Boys Group Scores:
Shorecrest 57
Everett 50
Lynnwood 38
Girls Group Scores:
Shorecrest 63
Lynnwood 45
Everett 42
Click right here to see benefits from all events
https://www.athletic.net/TrackAndField/meet/488391/benefits/all
Lynnwood subsequent meet: vs Meadowdale and Shorewood Thursday, March 30 three:45 p.m. at Edmonds Stadium
Cedarcrest/Kamiak/Meadowdale- at Goddard Stadium
No facts reported
Meadowdale subsequent meet: vs Lynnwood and Shorewood Thursday, March 30 three:45 p.m. at Edmonds Stadium
Boys golf
Edmonds-Woodway/Everett/Meadowdale/Mount Vernon
At Legion Memorial Golf Course, Par 71
Group Scores:
Meadowdale 345
Edmonds-Woodway 365
Everett 412
Mount Vernon DNQ
Leading five People:
1. Jude Wilcox (EW) 79
two. Floyd Villanueva (Mead) 80
three. Ian Ngthe (Mead) 83
four. Oliver Honeycutt (Mead) 86
T5. Everett Horrocks (EW) 87
T5. Jackson Stahlecker (MV) 87
Subsequent Match: Edmonds-Woodway vs Meadowdale Thursday, March 30 three p.m. at Nile Golf Course
Lynnwood vs Shorewood at Jackson Park Golf Course
No facts reported
Lynnwood subsequent match: vs Cedarcrest Monday, March 27 three p.m. at Lynnwood Golf Course
Softball
Kamiak defeated Mountlake Terrace 13- (five innings)
Kamiak pitching highlights:
Synclair Mawudeku and Ally Boulger: combined no hitter, six strikeouts
Kamiak hitting highlights:
Scarlette Chapman: four for four, 2B, 3B, two R, two RBI
Samantha Rohwer: two 2B, two RBI
Aliya Boonsripal: two RBI
Records: Kamiak 7- Mountlake Terrace two-two
Mountlake Terrace subsequent game: vs Marysville Pilchuck Monday, March 27 four p.m. at Mountlake Terrace Higher College
— Compiled by Steve Willits